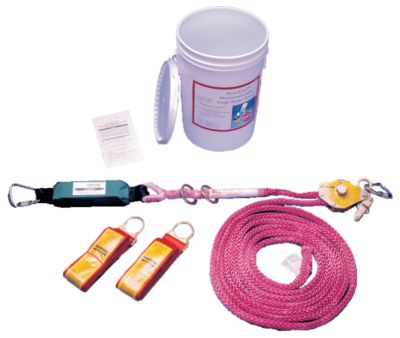 Gravity® Temporary Horizontal Lifelines MSA's newly enhanced Gravity Temporary Horizontal Lifelines offer unique, exclusive bypass shuttles enabling two workers to share a line and pass each other while maintaining 100% tie-off. The Gravity Temporary Synthetic Horizontal Lifeline, designed for easy installation and removal, suits many applications. System mounts to any suitable 5,000-lb-rated anchorage point and uses many standard components. Integral line tensioner helps to ensure proper lifeline tensioning.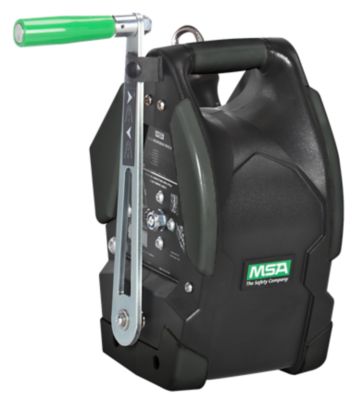 Personnel/Material Hoists The new MSA Workman Winch is rugged, versatile and economical for lifting, lowering and positioning personnel and materials within confined space applications. Designed for maximum 400-lb (182 kg) workload for personnel and 620-lb (282 kg) for materials, the Workman Winch is built with tough thermoplastic housing to ensure high performance within the harshest environments. Winch offers integral, ergonomic carrying grip and unique, foldable handle for simple storage. Patent-pending bracket design allows for easy, rapid assembly.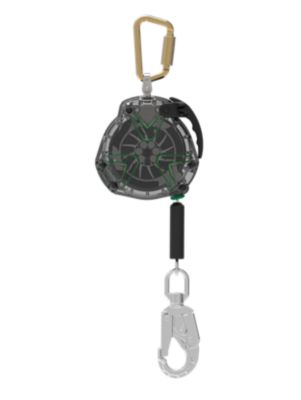 V-TEC™ Self-Retracting Lifeline With premium  stainless steel components and innovative engineering, the V-TEC Self Retracting Lifeline incorporates a precision-made spring radial energy absorber that requires zero calibration or adjustment.  The retraction dampening feature controls cable retraction speeds preventing pre-mature and accidental load indicator deployment.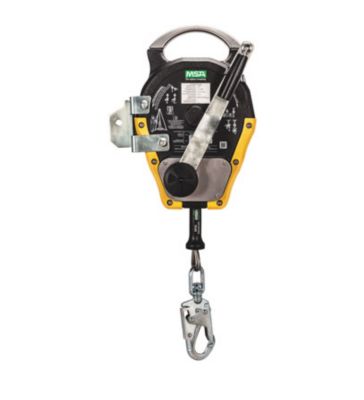 Workman® Rescuer MSA's Workman Rescuer provides fast, easy and intuitive fall protection with integral bi-directional retrieval capability. Not only does the Workman Rescuer arrest the fall, its retrieval capability allows the fallen worker to ascend or descend to a safe location. This durable, economical addition to the Workman Series of products offers fast installation and setup, ideal for applications where time and ease of use are a priority. The Workman Rescuer is also a stand-alone retractable device, as the carrying handle may be used as an anchorage attachment.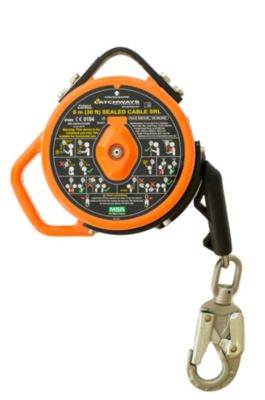 Latchways Sealed Self-Retracting Lanyards The Latchways Sealed Self-Retracting Lifeline range offers a dependable means of fall protection and has been specifically designed for use in harsh environments such as oil rigs, wind turbines and other offshore applications.
V-TEC™ Personal Fall Limiter The V-TEC Mini Retractable Lanyard is the most compact & lightweight Mini SRL on the market. The patented spring radial energy-absorber eliminates the need for an external energy-absorber outside of the housing which results in an extended product life cycle after heavy use.
EVOTECH® Harnesses For the latest design features that improve user comfort, ease of use, durability, and user safety, choose the  EVOTECH ® Harness. The EVOTECH harness has Nanosphere® coating on the webbing that repels grease, dirt & moisture.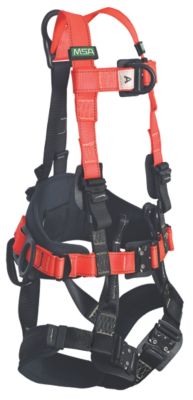 Gravity Utility ASTM Harness Full Body Harness that can be used in a diverse number of applications like: Confined Space, Rescue, Transmission Tower, Telecom Tower, Rope Access, and many others. Using the Gravity Utility Harness you will also be protected by a fall and in addition the harness has been tested to continue to provide protection when an arc flash occurs.
Gravity® Suspension Harnesses The Gravity Suspension harness provides unparalleled comfort for all applications that require extended periods of time in a fall protection harness.  The features and benefits of this new family of harnesses from MSA are designed to reduce fatigue and allow users to perform their duties better and in more comfort. Models are designed for very easy donning, one hand adjustment at all adjusters, and modern styling.
Latchways WinGrip® Vacuum Anchor The Latchways WinGrip is a vacuum anchor fall protection system for use in aircraft manufacturing and maintenance, as well as a variety of other environments and industrial applications. WinGrip is safe and flexible, it can be used on the fuselage, stabilisers and wings; the system is quick to install, simple to use and is suitable for work inside the hangar and outside on the apron.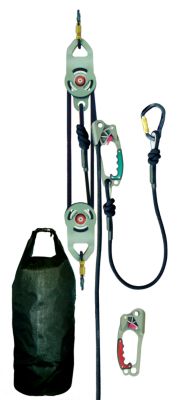 Rescue Utility System The Rescue Utility System is primarily used for raising and lowering people or equipment in rescue and industrial work access and ideal for confined space applications. A 4:1 rescue pulley system Pulleys are equipped with a built-in anti-reversing lock. Offers rapid deployment, is virtually maintenance free, and is rated for two-person load.
Workman® Energy-Absorbing Lanyard When free-fall distance can exceed two feet, use a lightweight, low-profile Workman® Energy-Absorbing Lanyard. The energy absorber not only limits force on the body in a fall, but also on the anchor location. The shock absorber includes a clear, durable protective cover over the labels to increase service life and allow for easy inspection.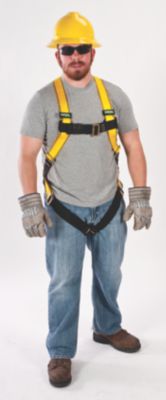 Workman® Harnesses Quality, comfort, and value come together in the Workman line of products. Workman Full Body Harnesses feature lightweight components and durable webbing. For corrosive environments, the Workman® Stainless Steel Full Body Harness comes equipped with stainless steel hardware.  Stainless steel components are resistant to harsh environments so they maintain durability when used in corrosive environments.

Workman® Personal Fall Limiters The Workman Personal Fall Limiter (PFL) and the Workman Twin Leg Personal Fall Limiter are two of the most versatile fall protection devices available on the market today. The Workman PFL has a fast acting brake mechanism and the Workman Twin Leg PFL offers a great alternative to twin leg shock-absorbing lanyards.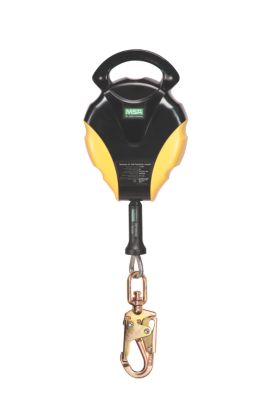 Workman® Self-Retracting Lanyard MSA's new Workman SRL provides the best value for your money! With lightweight design and durable, thermoplastic housing with impact-absorbing bumpers, the Workman SRL will not only be accepted by users, but also provides years of dependable service.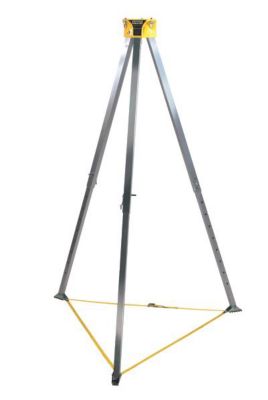 Workman® Tripods MSA Tripods make confined space entry with vertical descent easy. The Workman Tripod features internal leg-locking mechanism, maximum height indicator on the tripod legs, cut-resistant leg pin retention chains, recessed product labels, reduced weight and integral carrying strap.