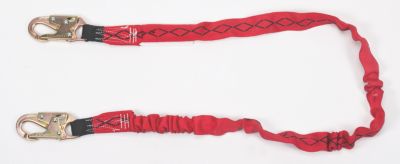 Diamond® Energy-Absorbing Lanyard
Raising the standard for shock-absorbing lanyards, the FP Diamond Energy Absorbing Lanyard's light weight and streamlined design contains a strong and durable polyester sheath that's abrasion and UV-resistant. FP Diamond Energy Absorbing Lanyards connect the back (dorsal) D-ring of MSA full-body harnesses to a qualified anchorage and anchorage connector. The energy absorber keeps fall arrest forces below ANSI and OSHA limits and deceleration distance is controlled to a maximum of 42 inches.

Workman® Energy-Absorbing Lanyard
When free-fall distance can exceed two feet, use a lightweight, low-profile Workman® Energy-Absorbing Lanyard. The energy absorber not only limits force on the body in a fall, but also on the anchor location. The shock absorber includes a clear, durable protective cover over the labels to increase service life and allow for easy inspection.