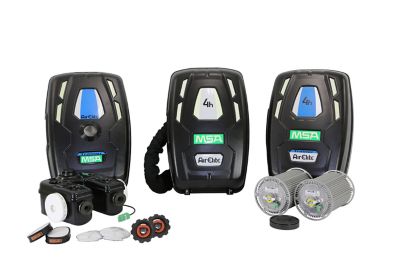 AirElite 4h The AirElite 4h with its slim construction and ergonomic design provides maximum comfort, with weight positioned on the waist and no shoulder width protrusion. The lateral breathing tubes are snug to the body for easy donning and doffing even in confined spaces without mask removal. It offers excellent breathing comfort via low breathing resistance, low inhalation temperature and dry breathing air. AirElite 4h starts automatically when the mask connector is disconnected from the shoulder strap. It offers flexible service times dependent on breathing rate and chosen canister. The AirElite 4h also offers an effective maintenance free cooling system with three stages, it has no inspection requirements and is quick and easy to maintain or recondition. It has maintenance free standby storage for up to 2 years in full readiness mode – up to 8 years if canisters are in factory sealed condition.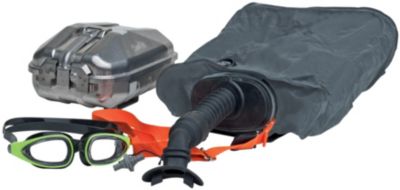 SavOx This chest-worn protective escape device provides oxygen on demand wherever toxic gases, particles or oxygen deficiency can be imminently present. Ready-to-use, it's small in size and low in weight, making it easy to don, use and carry. Features a double heat-exchanger system to reduce inhalation air temperature to a comfortable level. The TR device allows quick and economic training of donning and use by simulating the weight and properties of real units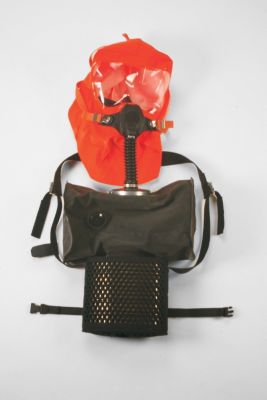 SavOxCap 60 This self-rescuer with hood provides more than 60 minutes of breathing air during escape conditions while also protecting eyes and head. Featuring proven KO2 technology, it provides a reserve of oxygen according to demand. Dons fast and easy. Features a highly visible orange hood, flexible visor and integrated half mask with speech diaphragm. The TR device allows quick and economic training of donning and use by simulating the weight and properties of real units
SSR 30/100 This small, robust KO2 respiratory device delivers safe and immediate oxygen on demand for escape or rescue. Packed airtight in a stainless steel container, this lightweight device is designed to be worn on a belt for easy opening and use. Dons in seconds. The TR device allows quick and economic training of donning and use by simulating the weight and properties of real units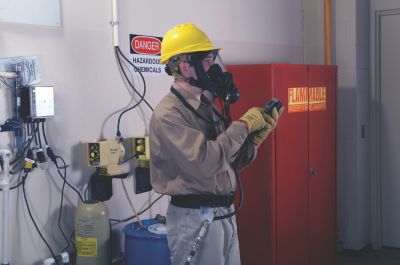 PremAire® Cadet Supplied Air Respirator Get air on demand with this high-performance, Type C, supplied-air respirator. Mask-mounted regulator responds quickly to changing breathing requirements. Maintains a slight positive pressure to prevent contaminants from invading the face piece. Ideal for chemical and petrochemical processing, municipal utilities, and asbestos and lead paint abatement, as well as non-IDLH environments such as pharmaceutical applications and hazardous materials clean up. Available as a basic supplied air device or as a combination air-line/air-purifying respirator.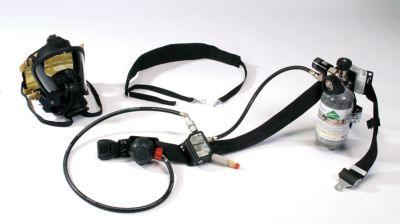 PremAire® Supplied Air Respirator System This full-face, pressure-demand, Type-C supplied-air respirator features a patented waist-mounted manifold for incredible flexibility. Can be converted from a supplied-air device to an air-purifying system. Dual-supply option lets users connect from one pressurized continuous air source to another—without losing continuity of airflow. The vortex tube option delivers whole-body temperature control for added comfort.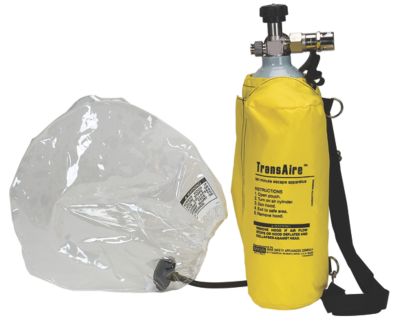 TransAire® 5 and TransAire® 10 Escape Respirator These self-contained devices help personnel escape dangerous and deadly atmospheres, including those with high concentrations of toxic gases or vapors or oxygen deficiency. Low profile, lightweight, and easy to carry, these escape respirators feature one-control operation for a swift exit.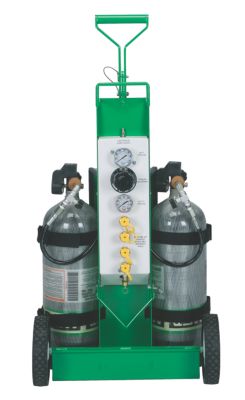 Compressed Airline Accessories MSA compressed airline accessories help ensure proper air supply. Our pressure regulator helps maintain desired operating pressure, while our manifolds supply single source air to up to four respirators. MSA compressed airline accessories are designed especially for use with MSA airline systems.